It's The Journey, Not The Arrival, That Counts
Life is a journey – and retirement shouldn't be the final destination
A couple of weeks ago, a friend introduced me to a brilliant new podcast – Time of My Life – and as you can imagine from the title, it's right up my street.
It's the brainchild of journalist Laurence Muzafari who was inspired by his nan to learn from people who "have already been schooled at the University of Life." His plan, to talk to "remarkable elders who have led fascinating lives" and he certainly got off to a good start with the legendary British actor of Only Fools and Horses Fame, Sir David Jason.
I loved every minute of what Sir David said, but one sentence stood out. "It's the journey, not the arrival." So, so true. It's a philosophy I live my life by – and it's one I've built my whole business around.
As the Retirement Rebellion, I work with people who, before they retired, believed it was the be all and end all.  The final destination.  Their arrival.  But it's not.  Retirement can be a dangerous, lonely, soul-destroying place.  I know.  I was forced to take early retirement due to an illness.  It was hell.  I hated the endless freedom, the time I had to fill, the void, the emptiness and as soon as I possibly could, I 'unretired' myself and started to prevent others suffering the same fate.
The big problem is that we've all been conditioned to think this way.  To dream about lazy, carefree retirements and to plan financially for them.  And that made sense when, for most people, they didn't last that long.
Thirty years is a LONG time
But today, the average retirement is 30 years.
THIRTY YEARS – that's a hell of a lot of time to fill, especially when you don't have a plan. I'm not talking money here, but everything else. Just think what a journey you could have during those THIRTY YEARS, the places you could visit, the people you could meet, the skills you could learn, the difference you could make. You could have the time of your life, but only if you plan for it. And not if you count retirement as being your arrival at the final destination on life's journey. To be frank, you don't get there until you draw your very last breath.
Retirement is a crossroads
So, if retirement isn't the final destination on this journey, what is it?  It's a crossroads and in my experience, people take one of two paths.
On the first they skip happily down a road they know nothing about.  They think it's going to be beautiful, breath-taking, heavenly, but instead, they find a wasteland.  A desert.
On the second, they know where they're going and what to expect, because they've already studied the map – carefully.  They've planned for what they're going to encounter, and they're prepared.  People who choose this path stick to it, have a much better journey and a retirement filled with passion, purpose and prosperity.
Take the right path
Too many people take path #1.  They end up lost, floundering and frustrated.  Ill health plagues them both mentally and physically and they often find they don't have enough money to get to where they really want to go.  For these people, retirement is a huge disappointment.
This is why I encourage people to prepare for retirement before they get to the crossroads.  Years before, if necessary.  And really plan.  Plan financially, emotionally, physically and practically.  It's also why I'm here to course-correct those who have taken a wrong turn in retirement and gone down path #1.
If you'd like to know more about my unique method that's helped retiree after retiree enjoy wonderful journey, after wonderful journey down path #2, then join my free webinar and let me help you go on the journey of a lifetime.
Latest posts by George Jerjian
(see all)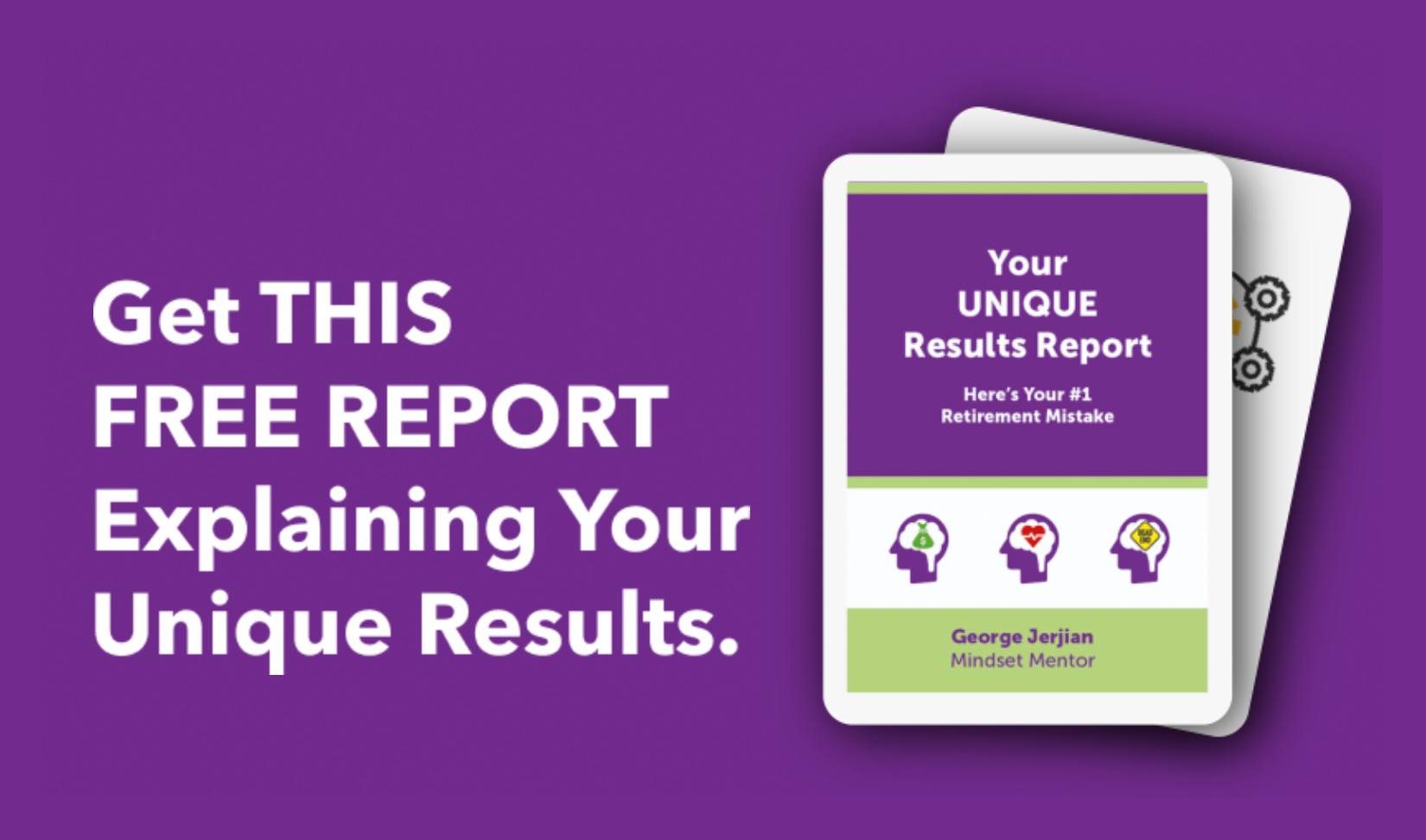 What Retirement Mistakes Could You Be Making?
Take my FREE 60-second quiz to find out what #1 retirement mistake you're making


My new online course Dare to Discover Your Purpose is an innovative new online program designed to help you change the way you feel about this important but often misunderstood life stage.

[searchandfilter id="49" show="results"]