Are your pensions funds in fact a fantasy?
Are your pensions funds in fact a fantasy?
One big issue that comes up time and time again for my clients is not appreciating that they are absolutely correct in worrying about their finances and pensions funds. This is because they know, at a subconscious level that, like 99% of the population, they will outlive their savings.
But chasing money – or "Fantasy Funds" as I like to call it – is exhausting and ultimately futile. Life expectancy in the US and UK is currently 83 but a large percentage of baby boomers are likely to live to 90 and beyond, so how will they fund their retirement? And if their funds run out in their 80s, they can hardly expect to be able to go back to work, given that their physical and mental health will have diminished by years of inactivity.
A new report has lent even more credence to my argument. The Resolution Foundation has revealed that even if you make minimum pension contributions for your whole life under the Government's auto-enrolment scheme, you won't have saved enough for an adequate retirement. This is a blow for a scheme that was meant to resolve the problem.
They're calling for a 'Living Pension' to help employers support their staff to save enough for their pension funds, and the report sets out a framework through which this could be calculated, identifying the contributions required by workers and their employers today to save for an adequate income in retirement. You can read about it in more detail here.
Aviva supported the Resolution Foundation report: Lindsey Rix, their Chief Executive of UK savings and retirement said: 'Aviva has been working with the Living Wage Foundation who will now use this report to develop and pilot a living pension accreditation standard that is equivalent to the highly successful living wage campaign. We believe this would help low to middle income employees focus on how they can reach a decent standard of living in retirement.'
The Living Wage (£9.50 an hour across the UK, and £10.85 in London) is calculated according to what 'employees and their families need to live' and paid by 7,000 UK businesses. Laura Gardiner, director of the Living Wage Foundation, said the 'success' of the living wage campaign could be replicated for pensions.
I welcome this report, and these developments, but they still ignore the crux of the matter. As a general rule, one cannot treat the symptoms of a problem and expect a resolution of the problem. One has to get to the root cause or the underlying issue.
In retirement, I believe that focusing on your finances is of course important, but it is, in fact, only a symptom – in the same way as if you were focusing solely on your health, or being concerned about having nothing to do. If you treat the underlying cause, which is a lack of purpose, then all the other problems of "health," "finances," and "monotony" are resolved simultaneously. You can find out more about this, and discover what 'symptom' you are treating, instead of looking for the underlying cause, by taking my online retirement quiz. 
Latest posts by George Jerjian (

see all

)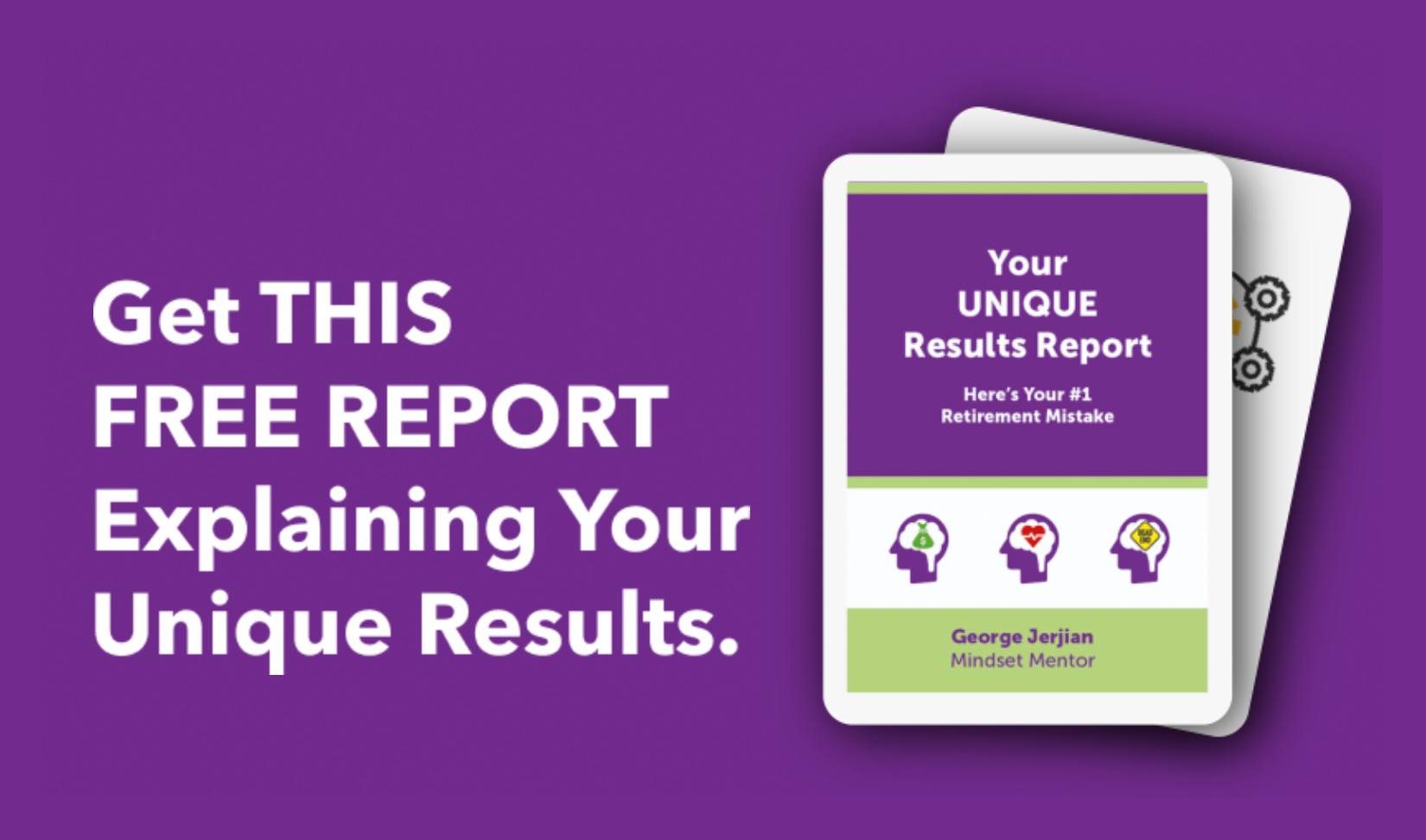 What Retirement Mistakes Could You Be Making?
Take my FREE 60-second quiz to find out what #1 retirement mistake you're making


My new online course
Dare to Discover Your Purpose is an innovative new online program designed to help you change the way you feel about this important but often misunderstood life stage.

[searchandfilter id="49" show="results"]