Climb every mountain… Go on, I dare you!
Why Retirement Didn't Work For Me – And How My Retirement Courses Can Work For You!
In the words of Maria Von Trapp, let's start at the very beginning…
I've done retirement, I hated it. Why? Because I lacked purpose and passion.
I filled my days, I made myself useful, but nothing made my heart sing. So, I 'unretired' myself and dared to discover my true purpose. Now I work with people who've retired or are about to and I help them course-correct their lives.
You see we've all been sold this dream retirement – one which is filled with endless days of freedom.  Time we can spend doing whatever we please. It's great for a while, but once the honeymoon period is over, it stinks! Days are long, months repetitive and the years, dreary.
That's why I've dedicated myself to learning about later life through study and by talking to people who've been there, done that.  I've used the information I've gathered to create a unique programme – a retirement course called Dare to Discover Your Purpose.
Through live sessions and exercises I work with people to create a blueprint for retirement and help them live the life they were born to live.  (Ok, I'll stop with The Sound of Music references now!) Of course, I don't just hand them a plan and expect them to get on with it.  I also help them put it into practice, by changing their mindset and the way they look at the world.
So How Does My Retirement Course Work?
You sign up, log on and we begin.
Oh, and I should mention you can bring a partner, friend or spouse for free.
The sessions are broken down in teaching, practical exercises, feedback and Q&As. You can do my course on your own online, but I encourage you to join the live sessions for three reasons…
1) You get to work with me! I'll hold your hand and guide you through the exercises.  I'll gently coax you when you hit a block and I'll share my experiences with you.
2) You'll actually do it. There's no time for procrastination.
3) You'll meet other people who feel the same as you. You'll listen to each other and learn from each other – and even make some new friends.
I keep the groups small and intimate so I can give everyone personal attention and there's no need to worry about speaking up in front of lots of people. The sessions are light-hearted, fun and worthwhile, but don't just take my word for it…
"The exercises and guidance have given me a new perspective on what I want my future to look like. I'm in a state of excited anticipation. Thank you, George."  Karen Baxter
"The personal interaction in the DARE Program enabled me to unblock problems holding me back in an atmosphere of serious, yet light-hearted understanding which has begun to transform my life. I am now a work in progress. I recommend this program because so many people need it."  Anne Howard
"Now because of George, my mindset has been changed to such an extent that I have engaged new clients… And I have more energy, enthusiasm, and endurance in my life."John Rick
Let me leave you with this thought: "You can't hide from your problems – you have to face them"
And this piece of timeless advice: "Climb every mountain, ford every stream, follow every rainbow until you find your dream."
Latest posts by George Jerjian
(see all)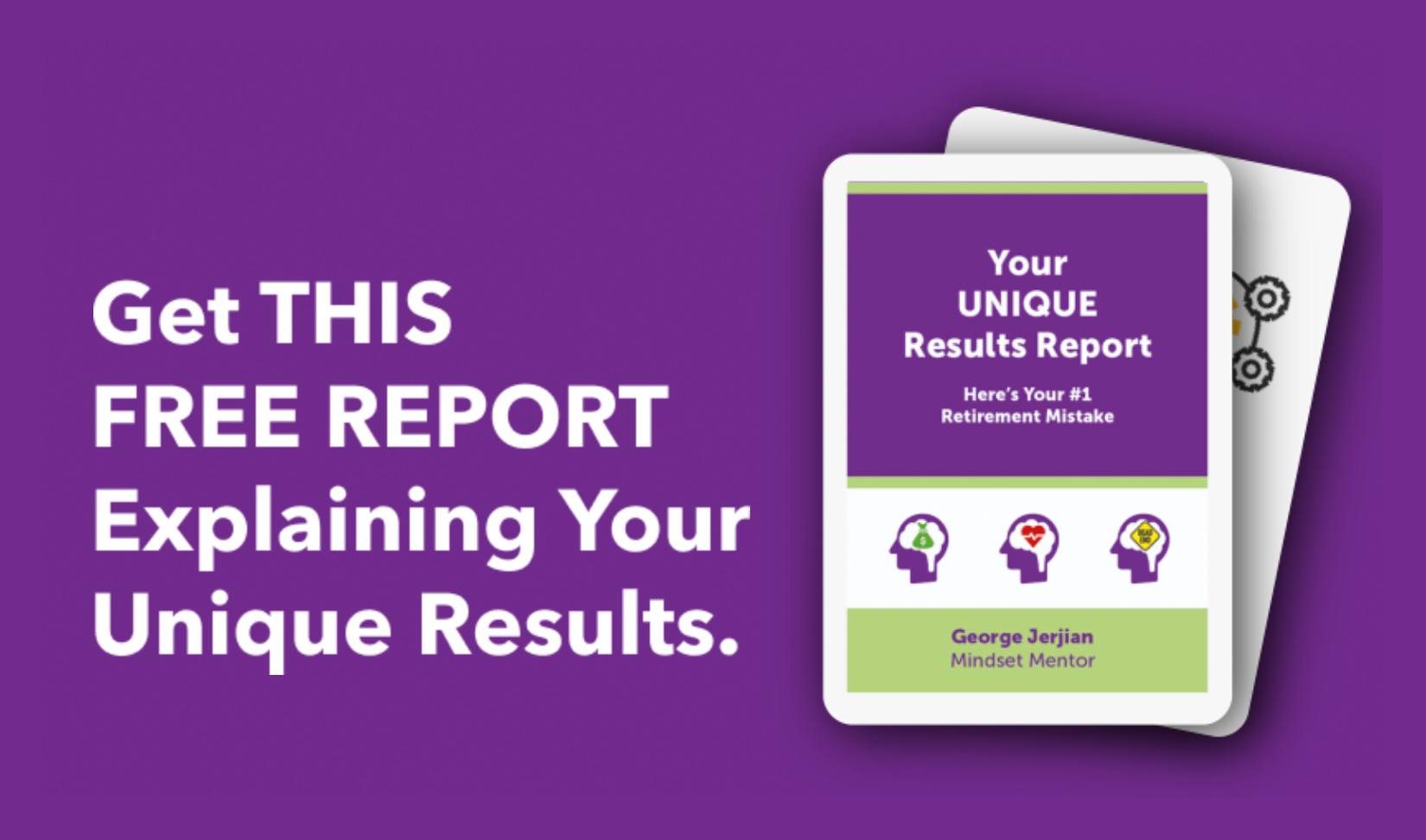 What Retirement Mistakes Could You Be Making?
Take my FREE 60-second quiz to find out what #1 retirement mistake you're making


My new online course Dare to Discover Your Purpose is an innovative new online program designed to help you change the way you feel about this important but often misunderstood life stage.

[searchandfilter id="49" show="results"]